LMTP3P Series Hybrid Multiplexer Shrinks Smartphone Wireless Circuits
Branches into three frequency bands reducing the number of antennas
Murata Electronics (India) Pvt Ltd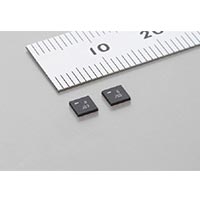 Category: Electronics Components |
Launched: Apr, 2017
| Manufactured at: Japan
This product can branch one antenna signal to three frequency bands and therefore reduces the number of antennas and contribute to device size reduction when used with a wireless circuit.
Who is it for?
Manufacturers of mobiles
Why is it for them?
This provides design surface area for MIMO systems that require multiple antennas, and can contribute to size reduction for a device.
Key Features
*Able to use a passive circuit to divide low band (698~960MHz), middle band (1427~2200MHz) and high band (2300~2690MHz). *Supports LTE and GMS transceiver applications *Dimensions (mm): 3.5 (L) x 3.5 (W) x 0.9 max
Contact Details
Head of Sales
Head of Sales , Murata Electronics (India) Pvt Ltd
Tags: Multiplexer Smartphone Wireless Circuit Hybrid Multiplexer