66005 series, IEC outlets with integrated light pipes
Appliance outlet with light pipes for status display
SCHURTER Electronics (India) Pvt. Ltd.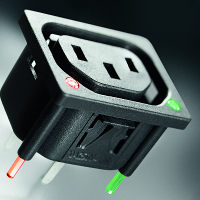 Category: Plugs, Sockets & Connectors |
Launched: Feb, 2017
| Manufactured at: Germany
Yes, this is an improvement over the classic product from Schurter. The new 66005 series IEC outlets are available with integrated light pipes. They have a pullout safety device so as to prevent the unintentional removal of the power cord. Depending on the arrangement of the outlets in the strip either horizontally or vertically, the specific VLock or cord retention systems with side latches can be used. The outlets snap arms are currently designed for front panel dimensions of 1.7 or 2.0 mm. Versions for 1.0, 1.5 and 2.5 mm are in development along with a 16 A outlet with up to 4 light pipes. Optionally, this product is also available with only one or without light pipe.
It has integrated fiber glass light pipes. These indicate operational status, or other function status, as an optional feature to standard connectors. The light pipe is designed to channel light from LEDs on the PCB to the front of the connector. This new technology offers flexible design options including the number of light pipes, 14, as well as options for light pipe lengths and diameters.
Who is it for?
Service technicians in data centers and other multidistributed power applications
Why is it for them?
The high density of servers in modern data centers today require the same compact design from a power distribution unit. With this new appliance outlets, the integrated light pipes provide space and assembly cost savings over conventional strip designs with LEDs mounted in between outlets. Service technicians are able to clearly see which systems are working properly and respond to the required maintenance adjustments. The triggering of the LEDs is freely configurable, wherein each state can be clearly and independently represented. An outlet could, for example, signal an outage with a red LED, or a critical power consumption pattern with a yellow LED.
Key Features
- Ratings IEC 10 A / 250 VAC; 50 Hz - Ratings UL/CSA 15 A / 250 VAC; 60 Hz - With one, two or without integrated light pipes for status display - Compatible for V-Lock cord retention and other systems with side latches - Operation temperature -25 °C to 70 °C - Snap-in mounting and PCB terminals
Contact Details
Head of Sales
Head of Sales , SCHURTER Electronics (India) Pvt. Ltd.
Tags: IEC Outlet Light Pipe power LED